Grooming For Dogs and Cats
* All rates are subject to 6% sales tax.
Tuesday through Saturday
9:00 AM to 6:00 PM By Appointment Only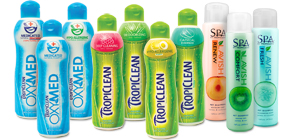 All services are CAGE FREE! Your pup will not wait in a crate or cage before, during, or after their sessions.  We proudly carry SPA by TropiClean; natural, high-quality, and sourced in the USA, and products made by FURminator. Oatmeal Hypoallergenic, White Coat, & Medicated Shampoos are also available.  Specialty cuts are subject to additional charges.  All dogs and cats must be up to date on rabies shots. 
Notice: De-matting is not a regular part of grooming services.  It takes extra time and care to de-mat and you will be charged an additional fee.  We reserve the right to refuse service in the event of severe matting.
Bath, Brush-Out, De-shedding
$33.00 - $48.00
Shampoo and Deep Conditioning
Complete Brush-out and De-shedding Nail Clip
Ear & Teeth Cleaning
Cologne
Bandana
Mini Groom Package
$43.00 - $59.00
Shampoo and Deep Conditioning
Complete Brush-out and De-shedding Nail Clip
Sanitary Clip/Trim Up
Ear & Teeth Cleaning
Cologne
Bandana
Complete Groom Package
$48.00 - $73.00
Shampoo and Deep Conditioning
Complete Brush-out and De-shedding Nail Clip
Full Body Hair Cut
Ear & Teeth Cleaning
Cologne
Bandana
Add Skunk Odor Removal $5.00
Mini Groom
$38.00
Waterless Shampoo
Complete Brush-out and De-shedding
Sanitary Clip/Trim Up
Nail Clip
Ear & Teeth Cleaning
Cologne
Bandana
Complete Groom
$48.00
Waterless Shampoo
Complete Brush-out and De-shedding
Full Body Hair Cut
Nail Clip
Ear & Teeth Cleaning
Cologne
Bandana